Frequently Asked Questions
Most banners cost between $40 and $90. You can use the price calculator on the home page or our system automatically tells you how much your banner will cost after you pick a banner, customize it, choose your size, material and fabrication, and then you'll see your price.
How long will it take to receive my banner?
When you get to the checkout area, our Shipping Advisor tells you exactly how fast you can get your banner and how much it will cost to ship. Enter your event date and the Shipping Advisor will even tell you which shipping options will work for you and when you'll get your banner with each option.
Call 1-800-522-9416 for rush orders.
Expedited service available.
Britten is located in Michigan.
Standard production time is three business days.
Delivery days are in addition to the production time.
FedEx calculates business days only, weekend days are excluded.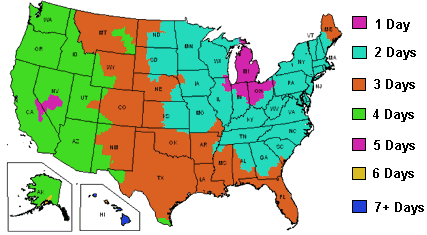 Our Shipping Advisor counts the 3 business days needed to produce your banner and adds time to ship based on your chosen shipping option. We offer complete FedEx services from Ground to Next Day Air. FedEx Ground shipping is free. We also offer a local pick up option if you happen to be in the Traverse City, Michigan area.
Banners come in many sizes, from 1' x 3' to 15 'x 30' and larger. Size options vary from banner to banner depending on the banner's ratio. When you get to Step 3, the system lists all available size options for your chosen banner.
Hint: You don't need to choose your colors, fonts, or text in Step 2 before you click to sizes in Step 3. Just pick the banner, skip the form in Step 2 and click Show Me & next step, and you'll see your size options. You can always return to Step 2 to customize; you are allowed to skip steps and come back to them.
Our banners are offered in Super Heavy Duty Vinyl, Heavy Duty Vinyl, and Tear Resistant Paper. Click here for more info on these choices.
Do you offer posters and signs in addition to banners?
We offer a material called Tear Resistant Paper that is similar to poster and sign material. If you print your banner on this material and choose a poster or sign size, the resulting product can serve as a poster or sign.
Do you offer double-sided banners?
Yes, if you do the following: order a quantity "2" of the banner that should be double sided, and be sure to make a note in the comments box during checkout that you'd like the two banners sewn back to back. The result will be a double sided banner.
In Step 4 you get to choose from several finishing & fabrication options that relate to banner display: trim to size, hems, hems & metal eyelets, sewn-in-rope, pole pockets, super reinforced hems, double-sided tape and Velcro. For example, if you choose hems & metal eyelets, you can hang your banner by putting rope through the eyelets sewn into all four corners. If you have poles to use for display, choose pole pockets. If you choose sewn-in-rope, your banner will come with rope attached. Click here for more info on these choices.
We do not sell banner display stands and other hardware on this site. For display hardware, visit our parent company Britten.
I don't see a banner design that suits my needs. What can I do?
We offer several generic banner designs in our General section that might suit your needs.
You can also design your very own banner in an image editing program and upload it to our site in one of several formats (.jpg, .gif, .tif, .bmp, .png, and .eps). You can upload a portion of a larger banner, or an image that fills the entire banner. Check out our Upload Your Own section for more details.
We also welcome your suggestions for new banner designs and categories. Please send your suggestions to onlineinfo@brittenbanners.com. If you need a custom banner quickly and the general designs won't work, contact us at 1-800-522-9416. We have your solution. We will make the ordering process fast and easy!
Can I upload my own artwork or photo?
Yes! Our exclusive Upload Your Own solar system gives you the ability to upload your own images for use on banners in the Upload Your Own area. Upload a photo or image that is placed in a certain area of a banner, or upload artwork that fills the entire banner area. You don't even need an account! It's simple to use and doesn't cost anything extra. Simply follow the step-by-step instructions in the Upload Your Own area.
If you receive an error when uploading your image, we want to know! Please call 800-522-9416 or email onlineinfo@brittenbanners.com.
When I upload my image, it tells me my image doesn't have enough resolution. It's the only image I have and I don't know much about working with images. Other companies have used it to print. What can I do?
Our system is designed to test your image. If your image doesn't have enough resolution to look good when printed on our printers, the system won't allow you to proceed. We do this because we don't want to send you a banner which we know will look bad.
Do a Web search using your favorite search engine for an image or photo that will work for you. Just about every type of image imaginable is available for purchase and personal use. One site to check is www.fotosearch.com. You'll want to buy the medium to high resolution version of the image for large-format printing like this. Make sure to address all copyright issues.
You might also ask friends and colleagues who know about image creation and editing to give you a hand.
If you run into a dead end and really need help, call us at 800-522-9416. In some cases our staff artists will be able to help you.
Why won't the special character I typed (i.e. < > !) display correctly when I customize my banner?
Our system is set up to acknowledge just about any special character you can enter using your keyboard. However, every font we offer in Britten Online Design does not contain every possible special character. For example, the font Brush Script does not have a character for the greater than symbol (>), so if you want to include a greater than symbol on your banner, you will need to select a font other than Brush Script. If you are having trouble getting a special character to display correctly, try selecting a different font.
We accept Visa, Mastercard, and American Express credit cards. We offer bill to options for some of our partners. If you need a special payment option, please contact us at 800-522-9416.
What is the Online Design Club? How can I get a discount code?
The Online Design Club is an opt-in enewsletter. Sign up to join the Online Design Club on the home page or after you check out. Club members receive periodic emails containing a discount code. You'll receive the email when it's sent to the whole group. We try to send an email out every 2 months or so. Enter this discount code when you check out for extra savings.
Can I share the banner I created with others before I purchase it? Can I save it until later?
This is a service we would like to offer in the future, but currently there is no way to save or share a banner using the site. For now, your best bet is to take a screen capture of the picture of your banner and email it to others as an attachment. Don't know how to take a screen capture? Windows and Mac operating systems both allow for simple screen captures, you don't even need to buy a special program. Check your help or operating system manual, or do a Google search for online instructions.
I can't remember my username and password. What can I do?
Email us at onlineinfo@brittenbanners.com and we'll get it right to you.